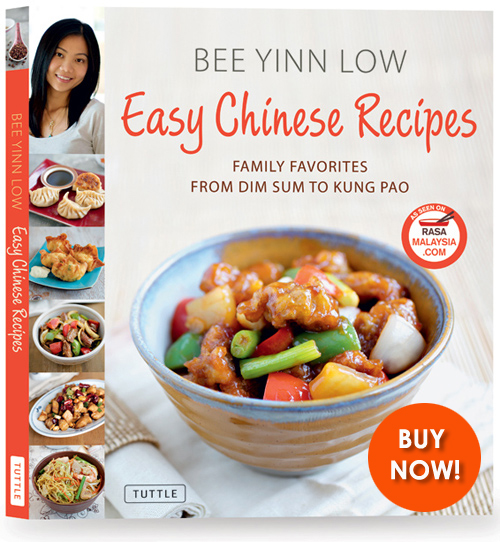 You've probably read about the great news on Rasa Malaysia, but in case you haven't heard, my first cookbook "Easy Chinese Recipes" will be released soon. Even though this is a food blog about Nyonya food, I thought many of you might be interested in my work. The cookbook will be available worldwide, starting with a June release in Malaysia and Singapore, follows by other countries in Asia Pacific and will be released in North America and Europe starting Sept 10, 2011 (US official release date)…
This cookbook is a collection of some of the most popular Chinese recipes, including everyone's favorite dim sum, dumplings, rice, noodles, and Chinese classics. The cookbook is full color; every recipe has a photo. Some recipes come with a step-by-step picture guide. The recipes in the cookbook are authentic, easy-to-make, and most importantly, delicious! Easy Chinese Recipes is a cookbook that you want to have in your kitchen—it's filled with everyday recipes that you can refer to on a daily basis.
Here are some early praises for the cookbook:
"What a gorgeous, heartfelt, fun, and inspiring book! From pot stickers, roast pork, steamed fish, original chow mein, and much more, Bee Yinn Low demystifies one of the world's greatest cuisines through this amazing trove of utterly authentic yet accessible recipes. If you love Chinese food, you must—and I mean must—own this book." — Harris Salat, food writer and coauthor of The Japanese Grill
"Easy Chinese Recipes is a clear guide to help you cook Chinese for your family and friends. Bee Yinn Low is a multi-talented writer and cook, and her easy to follow recipes along with her own beautiful photography makes this a book you will reach for over and over again." — Robert Danhi, author & photographer of Southeast Asian Flavors
"This book gushes with Bee Yinn Low's enthusiasm for pursuing and preparing tasty Chinese food." — Andrea Nguyen, author of Into the Vietnamese Kitchen and Asian Dumplings
"I'm extremely thrilled that you're holding this cookbook, because that means you'll be discovering the secrets to authentic Chinese home cooking." — Jaden Hair, TV chef, food blogger, and author of The Steamy Kitchen Cookbook
Below is the release schedule of "Easy Chinese Recipes" so please mark it on your calendar or you can simply pre-order the book now. If you have any questions, please leave me a comment and I will get back to you. I hope the book will be a hit because I intend to work on a Nyonya and Malaysian cookbook next. Thanks for your support!
Cookbook Release Schedule
June 2011
Malaysia and Singapore
July 2011
Philippines, Thailand, Indo-China, China, Hong Kong, Taiwan, Korea and Brunei
August 2011
India, Sri Lanka and New Zealand
September 2011
United States and Canada
October/November 2011
Australia
More Delicious Recipes on Nyonya Food:
Get New Updates by Email: